Machine
Full Service. Reliable. Responsive.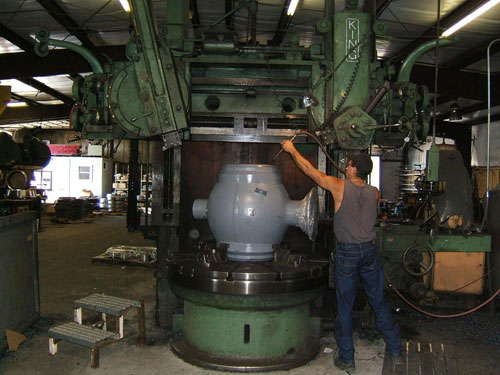 The Machine Division of Pipeline Equipment, Inc. has the equipment, capacity and expertise to provide custom machined products to support your fabrication and manufacturing needs. Housed in a dedicated and climate controlled building, the Machine Division is a full-service shop with over 25 years experience in providing custom machined products. The equipment available includes vertical turret lathes with swings up to 72", engine lathes with swings up to 54", mills with table travels up to 72" x 96". These machines include both CNC and manual units. When combined with the 52,000 lbs. material handling and in-house welding and fabrication capabilities, this provides customers with a one-stop solution to their manufacturing needs.

The Machine Division manufactures the Pipeline Equipment, Inc. designed and developed TWINLOCK Quick Opening Closure. This innovative, patented closure system is both safe and easy to operate. The closure can be safely operated by one person and without the use of tools. Safe operation of the closure is ensured by a redundant design in which the closure cannot be opened without the removal of the pressure alert valve and movement of the safety lock. This field tested, compact, efficient design satisfies a broad range of applications. The in house design, machining and production of the TWINLOCK Quick Opening Closure can satisfy any customer's specifications, while meeting quick delivery requirements.

The PEI Machine Division can provide turnkey ASME parts – we purchase material, machine, weld, fabricate and deliver your required ASME parts. From fabricated ASME stamped flanges to ASME approved TWINLOCK closures; the PEI Machine Division meets all your ASME machining and manufacturing requirements.

If your requirements range from valve throat boring to complex custom part machining and fabrication, the PEI Machine Division can turn your machining requirements into a completed product to meet your production timelines.

The PEI Machine Division is committed to providing our customers with a safe quality machined product with a competitive price and timely delivery.