Automation
Automated Spherical Pig System
Holds multiple spherical pigs which can be released locally, on a timed basis, or remotely. Cleaning, Batching, and Inspection Pigs can be launched and received in these same systems.
Do you operate a wet gas system that needs routine pigging to increase production? Is moving those valuable liquids to the processing plant important?
If so, PEI offers the Automated Pigging System.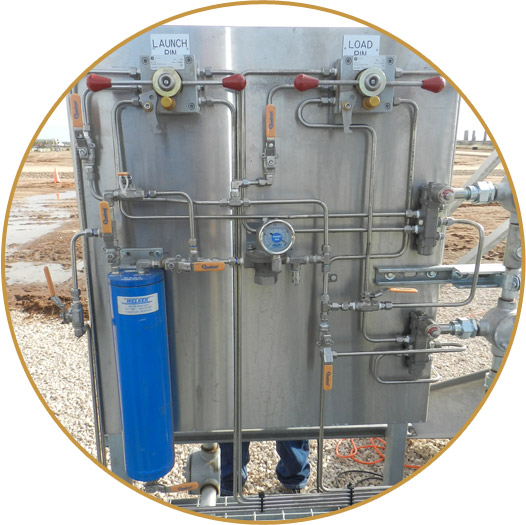 The system allows the operators three choices to automatically launch spherical pigs:
Locally at launch site, simply by pushing the "launch" button.
On a timed basis. Just set the desired time between launches, lock it in and allow it to operate.
On a remote signal basis. Just send a signal from your control center and a launch will occur and return a completed launch signal.
With the flow through barrel design, valves are only cycled when loading spherical pigs or launching a pig.
The automation quickly pays for itself by:
Reduction in Manpower
Reduction in Gas Releases
Reduction in Valve Maintenance
Lessens HSE Risks
THE CONTROL SYSTEM
The Automated Control System utilizes a PLC with an HMI in an optional Class 1, Division 1, explosion proof housing mounted in an easily accessible area on the launcher skid. Regulated and filtered pipeline gas is used to operate the pneumatic controlled launch pins. Optional pins choices are available.
The Control System Screen Displays:
Time
Log-In Request
Launch Pins Position
Launch Time
Last 25 Events
Date
Number of Spherical Pigs
Pig Passage Indicator
Next Scheduled Launch
Errors (should one occur)
YOU HAVE TWO OPTIONS
Automated spherical pig launch only.
Automated spherical pig launch with the capability to manually launch Cleaning, Displacement, or Inline Inspection pigs.
Our standard units hold ten (10) spherical pigs in sizes up to 14" and eight (8) spherical pigs in sizes 16" and larger. We also can provide work platforms to ease the loading and unloading operation.
If interested, allow us to explain the details of the system and provide you with a quotation. We provide start-up assistance, operator training and quick delivery to meet your requirements.
For more information or to request a quote, contact:
Pipeline Equipment, Inc. - Tulsa, OK
(918) 224-4144